MAH Hotel



Day Room for the daytime - Countryside

This partner has implemented hygiene and preventive measures to ensure your safety. It is possible that a health pass in order will be requested on your arrival if our partner has common areas (bar, restaurant, swimming pool, etc.).
Wishlist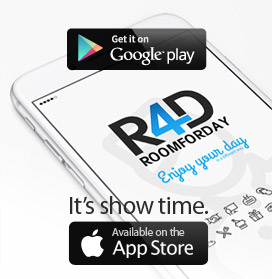 Payment is made on site upon your check-in. Payment accepted: cash or credit card.
L'heure du départ de la chambre est fixée pour la journée suivant les conditions affectées par l'hôtel. Après ces dates l'hôtel peut exiger le montant d'une nuitée. Règlement sur place à votre arrivée selon l'un des moyens de paiement autorisé par l'établissement.

N'annulez pas une réservation directement à l'hôtel, vous devez obligatoirement l'annuler sur notre site pour qu'elle soit prise en compte. Si vous n'annulez pas dans les temps, et que vous n'honorez pas votre réservation, nous considérerons qu'il s'agit d'un "No-Show" et vous ne pourrez plus réserver sur RoomForDay® sans carte bancaire pour garantir vos nouvelles réservations.

Lorsque l'hôtel déclare un no-show et qu'une emprunte bancaire a été effectuée lors de la réservation, RoomForDay débitera la carte bancaire du montant de la réservation.
Plus qu'un hôtel 3*, un lieu de vie !

La MAH.team vous accueille dans un lieu dynamique dans la région de Mons où rencontrer, partager, travailler et créer. Au programme : des chambres confortables, un design inspirant, des éclats de rire et des papilles ravies !

Au MAH, nous souhaitons que vous vous sentiez comme à la maison, détendu, libre. Chez nous, vous avez le choix de créer votre séjour comme vous l'entendez.

Literie confortable, design audacieux et espace… Les 55 chambres de l'hôtel sont parfaites pour poser mes valises après une journée d'aventures ou de travail à Mons !

Quelle que soit la raison de mon séjour, toutes les chambres m'offrent un lit ultra confort pour me reposer, un bureau pour lire ou travailler.
Informations :
A proximité de l'autoroute E42
Parking gratuit sur place
Tags :
Boutique Hotel, Suburbs hotel, Business, Airport, Food & Drinks, Champagne, Bedroom, Meeting, Contract, Countryside, Bar and Cocktail, Coworking, Hotel by day, Hotel for a day, Hotel by hours, Room by hour, Hotel afternoon, Day Room, Rendez-vous.
Our daytime offers and services